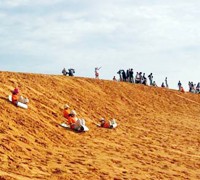 Sand dunes in Mui Ne
Famtrip, an America's traveling Group including 15 members has visited Binh Thuan province to study tourism environment on March 29 – 30, 2006.
Mr Kenny Chen, Assistant Manager of EVA Airway was also with visiting group.
Famtrip highly appreciated tourism environment in Binh Thuan province, especially they paid attention to the sea-ecological landscape as well as sand dunes in Ham Tien, Mui Ne – Phan Thiet.
During working visit, Famtrip's members were very happy with the leaders of the province. "We will set up more tours to Binh Thuan province in the near future," they said.