Even though Vietnam sees a significant growth in tourist numbers every year, the tourism sector has not yet made an effective breakthrough so as to bring about a strong growth and development to lure tourists back, according to travel companies and travellers.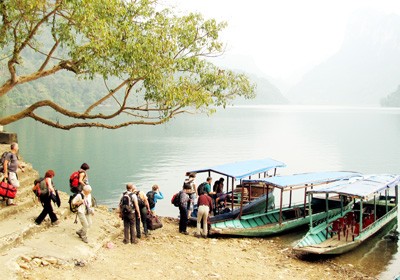 Foreign tourists along Ba Be Lake (Photo: SGGP)
The northern province of Quang Ninh has increased ticket prices after Ha Long Bay was named among the world's new seven wonders of nature. The public who enthusiastically voted for the UNESCO world cultural heritage site as one of the seven natural wonders of the world have been disappointed.
The province has raised tourist uproar with its new pricing scheme that is almost double for Ha Long Bay excursions as of December 1.
It is of vital importance for the national tourism sector to resolve the issue immediately and satisfactorily.
Similarly cultural and historical sites throughout the country have hiked their entry ticket prices with complete impunity.
Travel companies and tourists are afraid that the tourism industry has unceasingly exploited natural resources and beautiful landscapes without any investment and development strategy. Also natural resources will not last forever.
Travel enterprises have proposed many ideas to improve tourism, such as rebate of import duty on 30 seater vehicles, reducing VAT by 5-7 per cent for travel companies and hotels, offering tax refund policy for tourists to boost sales of local products and preferential treatment policies for investments.
If enterprises invest their capital in tourism, they should receive a rebate of import tax on construction equipment and materials.
The national tourism industry also sees a lack of entertainment services and shopping areas for tourists.
Vietnam tourism focuses on investment in infrastructure, but tourist services want entertainment and shopping areas to bring in profits.