For tour operators in Ho Chi Minh City, the country's approaching entry into the World Trade Organization is like sailing towards the ocean as they will have to face many challenges and, especially now, have little time for thorough preparation. Why are they worried and what will happen post-WTO admission?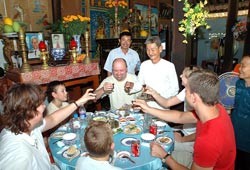 Home stay tours in Mekong Delta always attract foreign visitors
Their chief worry is the wave of foreign travel companies that will descend on Viet Nam.

Because of Viet Nam's protectionist policies for the travel industry, foreign companies have only been able to operate here as joint ventures with Vietnamese firms. When that protective barrier is lifted, these same foreign partners will detach themselves from their joint-venture partners as soon as they have gained enough experience and knowledge of the local conditions.

Together with the joint-venture divorces, fresh foreign travel firms will flock to Ha Noi, Ho Chi Minh City, Da Nang and the other major urban centers.

At first, maybe only medium-scale companies will penetrate the Vietnamese market. Based on the top ten list of visitors coming to HCMC, the first companies might be from Asian countries like Japan, South Korea, China, Thailand, Singapore and Malaysia.

Because of the city's history, there is a possibility that some subsidiaries owned by Vietnamese Americans will be set up in HCMC. In reality, they are like family companies that target overseas Vietnamese customers, especially the large number living in the U.S.

Big tourism corporations will not come early for they need to map out a strategy before penetrating a market. They might cooperate with Vietnamese enterprises at the beginning. They will jump into Viet Nam after understanding the country's tourism situation and realizing that their chances of doing well are good.

However, big corporations might be present in Viet Nam right after the country's entry into the WTO if they have chosen Viet Nam as a bridge or destination on their intercontinental tours that link the three Indochinese countries, Thailand and China (Guang Dong, Hong Kong and Macau).

What will Vietnamese tourism gain and lose?

Vietnamese travel enterprises will enter fierce competition with their former partners, who will directly seek international visitors and organize tours for them in Viet Nam. Of course, they will have to employ Vietnamese tour guides as regulated by law.

If small enterprises are uncompetitive and unable to develop specific markets, they will go bankrupt or become mere agents of big enterprises.

In addition, there will be a brain drain from Vietnamese tourism companies. The best qualified personnel will prefer to work for foreign companies, where the pay and conditions are better.

Operators of international and domestic tours for Vietnamese people won't be affected much as this field is not foreign companies' forte. Vietnamese visitors will even enjoy better services when hotels, restaurants and transportation companies upgrade to meet foreign standards.

When foreign tour companies get into Viet Nam, the hotels, restaurants, transport providers and such will reap the most benefits thanks to the higher number of international visitors.

Therefore, there will be fresh investment to build better hotels and restaurants.

What can be done to prepare?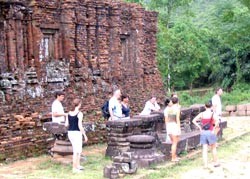 My Son Sanctuary in Da Nang Province is a favorite destination for international visitors
In order to survive, Vietnamese tourism companies have to improve, come up with better strategies and expand their business to many countries.

At the moment, companies draw up business strategies to suit their own needs. Tourism authorities should foster a common and consistent orientation to help companies formulate proper strategies.

The Viet Nam National Administration of Tourism needs to further develop its national action plan for 2006-2010 to suit the new situation.

Enhancement of the city's tourism products is one preparation for Ho Chi Minh City to integrate into the new arena, but it is not enough. The City's Tourism Department and Tourism Association should cooperate to orient the city towards a new tourism development.

The country's admission to the WTO will certainly have an impact on tourism. There will be both challenges and opportunities, and a way to overcome challenges and grasp opportunities is the number one job at hand.