How to develop HCMC tourism? Why has a city which has been operating in tourism for 30 years attracted only two million visitors each year?
These and many other questions are waiting for letters of suggested solutions from every one

The Ho Chi Minh Department of Tourism in cooperation with Sai Gon Giai Phong Newspaper opens the column "Tourist Forum" to receive ideas, suggestions from everyone: tourists, businessmen and overseas Vietnamese alike.

The forum will be opened twenty four by seven. You can send your opinions to dulichkhamphasggp@gmail.com or by post to SGGP Newspaper- Travel Department, 423 Nguyen Thi Minh Khai Street, District 3, Ho Chi Minh City, Viet Nam.

Organizers will give away HCMC-Ha Noi flight tickets or offer free local tours to those with excellent ideas.
In this issue, we would like to introduce an excerpt from a letter written by Huynh Van Chuc, an American-Vietnamese after his travel back to Vietnam to visit his family earlier this year. 
"Only if tourism in HCMC had been more impressive"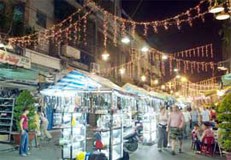 Luu Van Lang street, one of padestrial zones in Ho Chi Minh City.
"I usually come back to Viet Nam to see my family once or twice a year. In the recent visit, my friends and I went on a sightseeing tour of Ho Chi Minh City.

In comparison with Bangkok (Thailand), Hong Kong or Singapore, product choices for tourists (services, activities or programs) of HCMC are still poor.

While Singapore presents huge range of interesting services for visitors to choose such as tours of economic and administrative centers, tours of historical studies, "Fengshui" tours, Peranakan traditional culture tours, shopping tours… most tourist companies in HCMC offered us a tour they call "All in one".
That means they just guided us to museums, pagodas, administrative centers, trade villages and to do the shopping at the same time, leaving little time for us to go sightseeing. Most tours left no impression on us.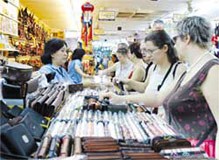 Foreign tourists in Ben Thanh Market
Shopping places such as Ben Thanh Market, An Dong Market, Binh Tay Market and other places with Standard Tourism Services are not located in a centralized retailing area like Ochard Road (Singapore), Siam Faragonk (Thailand)…, it took away the fun of strolling and shopping at the same time.

We were taken from one place to another by car while we wanted to roam the streets to see daily activities in the city or to do the shopping ourselves.

It was really a shame that we were not offered the cyclo tour, a special means of transport in HCMC. A tour around HCMC by cyclo will no doubt bring you an enjoyable feeling.

Besides the development of new tourist services, HCMC tourist authorities should exploit all available tourist potentials.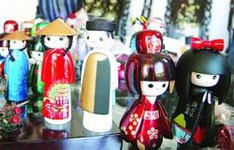 Vietnamese Dolls
Some time ago, the HCMC authorities planned to design the Dong Khoi-Nguyen Hue Streets as pedestrian zone to walk and shopping malls in order to encourage more spending. I wonder why this project has not been developed?

We should restore the cyclo tour, changing it into a typical and attractive tourist service, like the two typical local products: rickshaw in Hong Kong and Tuk Tuk in Thailand.

In addition, we also should arrange various typical arts and culture programs, annual festivals in the streets in Chinatown (Cho Lon).

"I wish that tourism in HCMC would become more impressive and professional to contribute to the development of the economy, trade and improving people's lives". This what Mr Chuc had to say.