Loaded trucks and passenger coaches can now cross the northern border from Viet Nam's Lao Cai to China's Yunnan and vice-versa.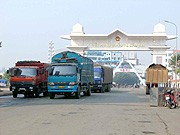 Vehicles travel between Lao Cai and Yunnan through the border gate
Under an agreement between the transport departments of the two provinces, vehicles from Viet Nam can travel to parts of Yunnan and Inner Mongolia while vehicles from China can go to Lao Cai City, Sa Pa and Van Ban.

The biggest beneficiaries are trucking firms, which no longer have to unload at the border and transfer their freight to another truck. It will also speed up passenger services.