Viet Nam's tourist spots are booked out for the vacation that starts on Thursday April 26, the anniversary of King Hung's death, and lasts until May 1, International Labor Day. Among the favorite holiday places is Ha Noi.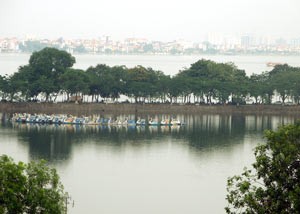 Truc Bach lake in Ha Noi City (Photo:TC)
The city is one of the most beautiful and alluring in Asia. Readers of the American magazine Travel and Leisure last year voted Ha Noi the sixth most attractive city in Asia and the second best for tourists in the region. It also has the distinction of having been named "The City for Peace" by UNESCO in 2000.
Viet Nam's capital is known for its hospitality, tranquility, long history, and its many relics and historic places like Van Mieu -Quoc Tu Giam (Temple of literature and the first national university), Hoan Kiem Lake, Ngoc Son Temple, Thap Rua (tortoise tower), Quan Thanh Temple and Tran Quoc Pagoda, to name but a few.
Just as popular as sightseeing is the local food such as Banh tom (crisp shrimp pastry) in the restaurants around Ho Tay (west lake). So too is sipping coffee and drinking Taiwanese tea, and experiencing the subtle fragrance of the ngoc lan flower (Michelia alba) in the streets around Ho Tay.
History buffs might care to try one of the organized tours around the city, which was called Thang Long and was the capital from 1010 AD, when the Ly Dynasty ruled Viet Nam. In fact, one of the places these tours include dates back even further, namely the Temple of the Dinh Dynasty (968-980).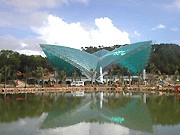 Tuan Chau resort in Quang Ninh Province
Longer tours go to the marvelous caves of Tam Coc in Ninh Binh Province 110 kilometers south of Ha Noi.
Others go to Ha Long Bay, the renowned World Heritage Site in Quang Ninh Province, where the visitor can revel in the incredible beauty of the bay juxtaposed against the innumerous impressive islands, the soaring limestone cliffs, and the many grottos and caves.
A tour of Ha Long bay means a boat trip. It's the only way to see the caves called Thien cung (celestial palace), Cho da (stone dog), Sung sot (amazing) and Ga choi (cock fighting).
Also recommended is a trip up Yen Tu Mountain to see Hoa Yen, Dong and other pagodas.
The resort on Tuan Chau Island eight kilometers from Ha Long City is popular too and an ideal place for swimming in the sea and water sports generally. It has a marine circus where dolphins and such are put through their paces.
Contact any travel agent to find out more and book a tour.