Tourism in the Mekong Delta has failed to develop as expected in the absence of innovation and variety, Deputy Minister of the Ministry of Culture, Sports and Tourism Ho Anh Tuan has said.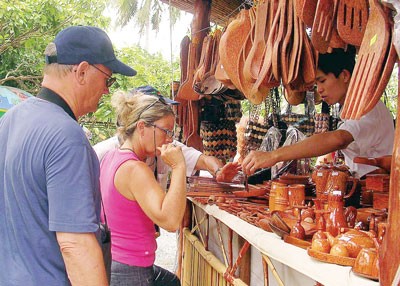 Foreign visitors see products made of coconut in Ben Tre Province (Photo: SGGP)
The region's visitor numbers and tourism revenues are modest, according to the Vietnam National Administration of Tourism.
Last year it received 9.8 million domestic visitors and 1.6 million foreign tourists, accounting for 5.8 percent and 8.3 percent of the country's total number.
Revenues were a mere 2.7 percent of the country's total at VND5.1 billion (US$242,000), the administration said.
Mekong Delta provinces offer little more than tours to fruit orchards or nature reserves and performances of Don ca tai tu (southern folk music).
The region has not invested in new tours and the old ones are boring for visitors, Nguyen Thi Nga, director general of Dong Thap Tourist Company, said.
Local authorities should determine the right products and invest in them, Assoc Prof Pham Trung Luong of the Institute for Tourism Development Research said.
New tours should be promoted, taking visitors to islands, Dong Thap Muoi area, U Minh Forest, Ca Mau, and the Vam Co River and offering them glimpses of the Khmer and Cham cultures, he said.
Provinces in the area should join hands and also coordinate with Ho Chi Minh to develop tourism, he added.
Dong Thap has implemented a programme to develop tourism and set itself a target of more than 1.85 million visitors this year, Ngo Quang Tuyen, deputy head of the province's Department of Culture, Sports and Tourism, said.
Can Tho is scrambling to finish construction of ecotourism sites and amusement parks to make it a tourist hub in the delta, Le Van Tam, deputy chairman of the city People's Committee, said.
Other localities are also looking for ways to develop tourism and want the Ministry of Culture, Sports and Tourism to assist with specific projects and policies to develop a common tourist brand identity for the region, developing their strengths, and ensuring they do not offer identical tours.