The "Laguna" international-class tourism and service complex is to be built starting next March in central Viet Nam's ThuaThien-Hue province and expected to be completed by 2014, announced Steven M. Small, CEO of the Singaporean Banyan Tree Group managing the project.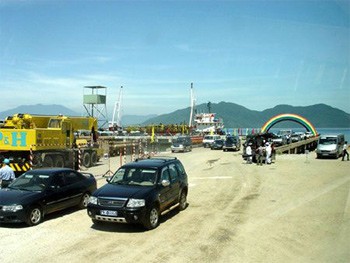 Chan May - Lang Co economic zone
By 2014, work is to be completed on the final stage of the US$1 billion complex, to become one of the largest eco-tourism resorts in Viet Nam.
The tourism complex is to cover an area of some 300 hectares in Loc Vinh commune, Phu Loc district, Chan May-LangCo economic zone. Investment licenses for the project were issued last March.
The first stage, to be finished by 2009, includes two five-star hotels, the Banyan Tree and Angsana Resort with 440 rooms, and the Laguna Holiday Club with 180 rooms.
In the second phase of the project, two more five-star hotels of 400 rooms each are to be built, along with an 18-hole golf course, exhibition and convention center, shopping area and accommodations. Completion is slated for 2010.
In the third phase, 40 villas are also to be built along with two hotels with more than 500 rooms and a "super six-star" hotel with a capacity of 210 rooms. The facilities are to receive visitors in 2011.
The last part of project will focus on the construction of 470 villas which will be put up for sale.
The Singapore-based Banyan Tree Group reported on the project's progress to the People' Committee of ThuaThien-Hue province last week, Nguyen Ngoc Thien, Chairman of the People' Committee.
Provincial authorities promised to offer preferential treatment to help the Laguna come into operation as early as possible.