This morning, national carrier Viet Nam Airlines organized a ceremony to welcome its 8,000,000th customer in the year 2007 at Noi Bai Airport in Ha Noi. This passenger stepped off the Ho Chi Minh City-Ha Noi Flight 215.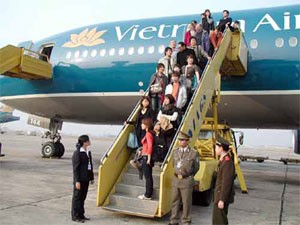 Passengers step off a Viet Nam Airlines plane
Viet Nam Airlines leaders offered gifts to four lucky customers whose tickets bore the numbers 7,999,998 to 8,000,001.
The 7,999,998th and 7,999,999th ticket holders were each given one economy-class return ticket. The 8,000,001st got two economy-class return tickets. And the eight-millionth customer received a pair of Viet Nam Airlines international business-class seats.
With over 8,000,000 seats sold for international and local flights, Viet Nam Airlines has now exceeded its target by 2 percent this year, attaining growth of 15.5 percent over last year.

Next year, Viet Nam Airlines is to strive for growth rate of over 14 percent over 2007, by selling over 9,000,000 seats.
It earned a gross profit of VND370 billion ($23 million) this year, up 6.4 percent from last year after revenues grew more than 15 percent, according to the airlines' statement just released.