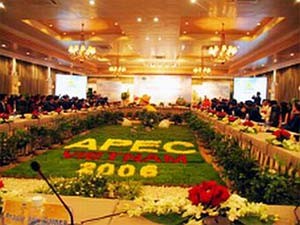 At the APEC Tourism Ministerial Meeting
The fourth APEC Tourism Ministerial Meeting concluded yesterday with the adoption of the Hoi An Declaration on enhancing tourism cooperation in the Asia-Pacific region.
"Tourism is one of Viet Nam's key economic sectors. The Vietnamese government is committed to actively cooperate with APEC's member economies to develop tourism," Deputy Prime Minister and Foreign Minister Pham Gia Khiem said.
He suggested the international organizations and APEC members intensify their cooperation and aid tourism development in Viet Nam.
According to Chairwoman Vo Thi Thang of the Viet Nam National Administration of Tourism, the countries of APEC's member economies are friendly and attractive destinations to visitors from inside and outside of the region.
Their tourist arrivals numbered more than 320 million in 2005, or 40 percent of the global total, and generated profit of US$318 billion, or 48 percent of the industry's global profit. The growth rate in the coming decades is estimated at 8-10 percent/year.
The Hoi An Declaration on promoting tourism cooperation in the Asia Pacific contains three initiatives: encouraging the organization of an APEC Tourism Fair back-to-back with important APEC events on a voluntary basis; encouraging the hosting of the APEC Tourism Investment Forum on the sidelines of the APEC Tourism Ministerial Meeting; and encouraging the opening of tours and new direct air routes to link the world cultural heritage sites of the APEC's member economies and contribute in travel promotion and creating advantages for visitors.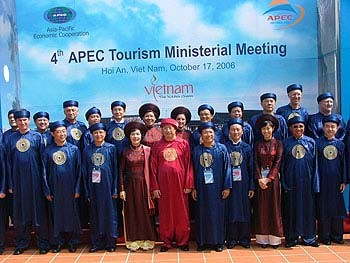 Leaders of APEC's member economies in Vietnamese traditional costumes


Highlights of the Hoi An Declaration
- Declaring tourism as one of the priority areas for regional co-operation as it plays an important role in socio-economic development, cultural exchange and poverty alleviation.

- Praising initiatives of APEC's member economies to implement the priorities of APEC tourism cooperation.
- Promoting the application of tourism satellite accounts among APEC members.

- Encouraging APEC's Tourism Working Group to determine obstacles in the way of tourism and travel growth. The group should also perfect policies to create an active business environment.

- Intensifying the cooperation between the state and private enterprises in tourism development.

- Encouraging the sharing of information amongst the tourism management departments of APEC's members, which should enhance cooperation between the media and tourism management departments.