A hundred travel agents and representatives of various organizations from Vietnam, Switzerland and France took part in the "Vietnamese and Swiss Tourism Development and Cooperation" seminar in Geneva, Switzerland on August 10. The seminar was an important activity to boost the development of Vietnam's tourism industry, especially at a time when Viet Nam is preparing to join the World Trade Organization (WTO), and a celebration of 35 years of diplomatic relations between Switzerland and Viet Nam.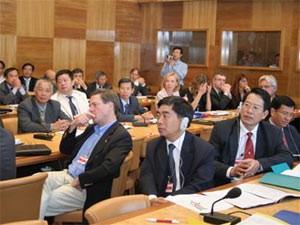 At the seminar  (Photo:TT)
Ms. Vo Thi Thang, Chairwoman of the Vietnam National Administration of Tourism (VNAT), said she highly appreciated the development of tourism cooperation and diplomatic relations between the two countries.
She emphasized the prospects for cooperation in tourism between Viet Nam and other countries.
The participants discussed tourism situations, potentials, policies, development programs, experiences and obstacles in Viet Nam, Switzerland and other countries.
The seminar's organizers heard many sound proposals for developing tourism in Viet Nam and for tourism cooperation between Viet Nam and Switzerland.

Previously, on August 4, to promote Viet Nam's tourism, trade and culture, Ambassador Ngo Quang Xuan had officially opened Vietnamese stalls and held a party to welcome guests to the Geneva Traditional Festival, which was held on the shore of Lac Léman from August 3 to 13.
Many Vietnamese living in Switzerland and France came to take part in the festival.