Foreseeing that the Vietnamese tourism industry represents great opportunities when the country joins the WTO, many foreign investors are rushing to build large resorts or launch numerous tourism projects in tourist areas of Viet Nam.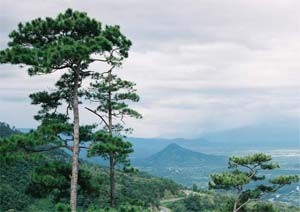 A beautiful sight of the City of Flower Da Lat. (Photo:TK)
The Vietnamese Government has recently approved the investment by four Japanese corporations in the Dankia – Suoi Vang holiday resort in the central province of Lam Dong.
The investors, a consortium comprising Japanese Mitsui, Mitsubishi, Sumitomo and Limtec, have proposed spending US$1.2 billion to develop the 5,000-hectare area of Dankia-Suoi Vang area into a modern ecosystem urban area with international standards called the Romantic Town Da Lat's Flower.
After years of facing financial crisis, another foreign investor, the Kumho Asiana Group from the Republic of Korea, recently informed their plan to build the Asiana Plaza, a 5-star complex of office, hotel and commercial facilities in District 1 of Ho Chi Minh City, with an investment capital of over US$200 million.
The Kumho Asiana Group will also simultaneously build an automobile tyre plant in the southern Binh Duong province with an investment capital of US$380 million.
Notably, Rockingham Group from England is asking the Vietnamese Ministry of Planning and Investment (MPI) to license its investment in a tourism complex project (including restaurants, hotels, a performance site, and sea tourist site) by at Bai Vong, Bai Sao beaches of Phu Quoc Island with an investment capital of up to US$1 billion.
In the beach city of Vung Tau, the MPI earlier had granted licence to the US's Winvest LLC's US$300 million 5-star Saigon Atlantic Resort. The project targets MICE tourists worldwide with a modern hotel and an international convention centre, which is capable to accommodate thousands of people.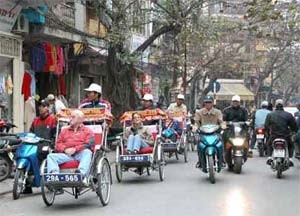 International visitors tour Ha Noi city on cyclos. (Photo:TK)
Also in Vung Tau, many experts of the US-based Platinum Dragon Empire (PDE) came to Viet Nam to survey the city for a tourism and entertaining project, which would be invested as much as US$550 million.
The world's largest hotel managing group InterContinential Hotels Group announced a plan to construct its first hotel in Viet Nam in 2009.
VinaCapital is also focusing on the hotel and tourism business, foreseeing the industry represents great opportunities given the rising number of international tourists into Viet Nam. The fund has bought out the foreign stakes in two of Ha Noi's prominent hotels, Sofitel Metropole (70%) and the Hilton Opera House (52.5%).
The Saigon Tourist Corporation (Saigontourist) this October will cooperate with a well-known casino managing corporation from Macau to establish a "Little Las Vegas" in Ho Chi Minh City.
In the aviation industry, the Shell Group is negotiating with Vietnam Airlines to supply its petrol while Bangkok Airway and others international air carriers are planning to invest capital or launch new flights with Pacific Airlines, the only joint stock air carrier of Viet Nam.
In the first nine months of 2006, according to the MPI, the tourism sector accounted for over US$2.2 billion of the total US$5.15 billion of foreign investment capital to Viet Nam.