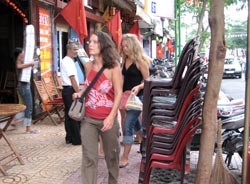 Foreign visitors walk along the streets in Ho Chi Minh City (Photo:TC)
Most tourists surveyed in recent polls acknowledged that Viet Nam's tourism has improved lately, according to the General Statistics Office, though some would like to see more progress.
Seventy four percent of foreign travelers agreed that Viet Nam has beautiful landscapes and a clean environment, while 25.2 percents rated these features as average, and only 0.8 percent found them poor.
Nghe An, Thua Thien Hue and Da Nang Provinces are seen as the most beautiful and cleanest locations for foreign tourists.

Sixty-five percent highly appreciated the Vietnamese accommodations, while 33.3 percents rated them as average and only 1 percent found them poor.
Nghe An and Da Nang were rated with the best accommodations.
Fifty percent found means of transport in Viet Nam good, while 45 percent found it average and the remainder considered it poor.
Despite these good numbers, many foreign tourists still commented that cultural, sport-oriented and entertainment activities in Viet Nam are currently boring.