Vietnamese tourism yesterday welcomed Michael David Magidson, a US citizen, as its four-millionth visitor of 2007.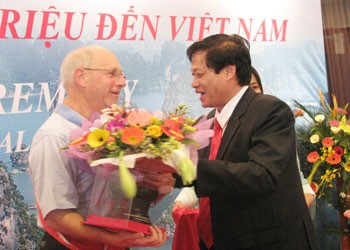 Mr. Michael Daviv Magidson receives flowers from representative of the Ministry of Culture, Sport and Tourism. (Photo:Vnex)
The lucky guy is flying to Ha Long Bay via a Saigontourist-leased chopper.
Magidson was given a badge, a pair of return tickets on Viet Nam Airlines' international flights and a week-long tour to the Mekong Delta and the coastal city of Phan Thiet.
The same gifts were offered to Thailand's Wattinee Kanthawee and U.S. citizen Marylyn Debrnin, respectively Viet Nam's 3,999,999th and 4,000,001st visitors of the year.
The welcoming ceremony was held at Noi Bai International Airport and attended by representatives of the Ministry of Culture, Sport and Tourism.
The event also marks the nation's achievement of one of its 2007 tourism goals, 4.0-4.4 million visitors. The year's estimated tourism and travel earnings to date are VND 56,000 billion (US$3.4 billion).