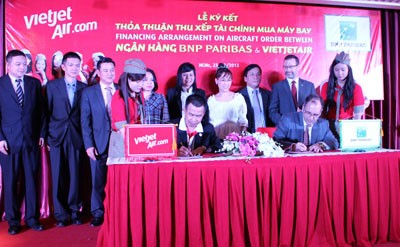 At the signing ceremony (Photo: Courtesy of Vietjet Air)
Vietjet Air has signed an agreement with BNP Paribas, whereby BNP will henceforth manage the financing of the new aircrafts that Vietjet Air will receive in 2014.
Vietjet Air had placed an order for 100 aircrafts with Airbus in France last September, aimed to expand and also build the most modern and sophisticated fleet in Asia-Pacific.
BNP Paribas is a leading international bank in aviation finance, serving 128 airlines and aircraft leasing firms. In 2012 and 2013, the bank helped in financing of 125 aircrafts, which resulted in revenue of US$7.4 billion for the bank.