VietJet Air has signed an agreement with AWAS, one of the world's leading aircraft leasing companies, for three brand-new Sharklet-equipped A320 aircraft.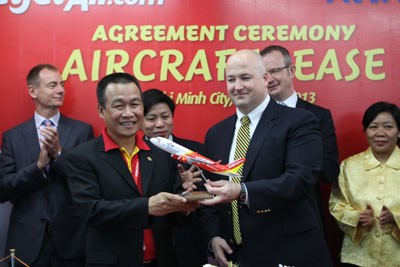 Ray Sisson, President & CEO AWAS (R) gives the model of Sharklet-equipped A320 aircraft to Luu Duc Khanh, Vietjet Air's Director (Photo: Courtesy of Vietjet Air)
The move will make VietJet Air the first airline in Vietnam to operate this new fuel-saving aircraft.
Launched in 2012, Sharklets are made from light-weight composites and are 2.4 meters in length. Developed as an option for newly-built A320 aircraft, they allow operators to reduce fuel emissions by up to four percent over longer sectors and reduce approximately 1,000 tons of CO2 emissions per aircraft per year.
In addition, Sharklets offer operators the flexibility of either adding a range of 100 nautical miles or an increased payload capability of up to 450 kilograms. The aircraft offers quality passenger service and lower cost options for domestic and regional air travel.
VietJet Air has already six Airbus A320 aircraft and is currently operating 300 flights a week--all by new Airbus A320 aircraft. The new Sharklet-equipped A320 aircraft will assist VietJet Air with their plans to expand into ASEAN and northern Asia to regional destinations such as Kuala Lumpur, Busan, Seoul, Singapore and Taipei.
In related news, on the same day, Vietnam Airlines decided to increase 434 flights on domestic and international routes, to meet the holiday travel demand for Vietnam Independence Day and Labor Day, April 30 and May 1.
The carrier will add 391 additional flights on domestic routes, an increase of 35 percent compared to normal days. For international routes including Hanoi-Ho Chi Minh City to Bangkok/ Singapore/ Hong Kong, the carrier has now more than 43 flights.