In celebration of Vietnam Women's Day on October 20, Vietjet expresses thousands of best wishes and presents 300,000 promotional tickets to all passengers from only US$0 under "12pm, It's time to Vietjet" campaign on the three golden days of October 11, 12, 13, 2016 only at www.vietjetair.com.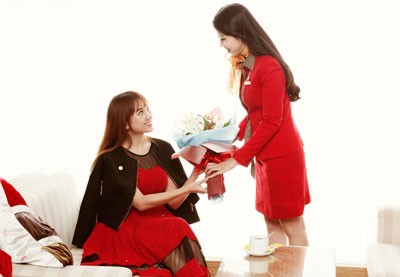 Flight attendant gives flower to passengers on teh special day (Photo: Courtesy of Vietjet)
The promotion applies for all international routes from Vietnam to cities: Hong Kong, Kaohsiung, Taipei, Tainan, Seoul, Singapore, Bangkok, Kuala Lumpur and Yangon.
The travel period will be from November 1, 2016 to March 25, 2017 (excluding public holidays). For the new route Ho Chi Minh City – Hong Kong, in particular, it will be from December 9, 2016; from December 12, 2016 for Ho Chi Minh City – Kaohsiung route and Hai Phong – Seoul route.
The promotional tickets can be booked from 12h to 14h at www.vietjetair.com (also compatible with smartphones at https://m.vietjetair.com) or at www.facebook.com/vietjetvietnam (just click the "Booking" tab). Payment can be easily made with debit and credit cards of Visa, MasterCard, JCB, and American Express and ATM cards issued by 29 Vietnam's banks that have been registered with internet banking.
The Vietnam Women's Day is becoming more meaningful as Vietjet will organize many interesting activities in celebration with female passengers such as gifts and flowers presentation, a famous boy band's performance and lucky tickets drawing.