Vietnam is one of the top destinations for visitors from the Republic of Korea (RoK) in 2015 besides Cambodia, Thailand and Japan, according to the RoK' largest tour agency Hana Tour Co.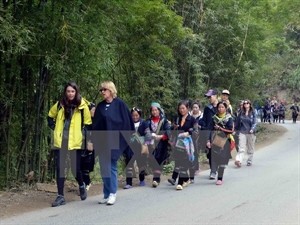 Vietnam is a favourite destination for holidaymakers from all over the world. (Photo: VNA)
The demand for international air travel was estimated to rise 28 percent year-on-year to about 250,000 people in January, the RoK Yonhap New Agency on January 27 cited the Hana Tour Co.'s figures, adding the number of outbound travellers will be 154 in February, up 22 percent from a year ago.
Meanwhile, the RoK's second largest travel agency Mode Tour Co. said it saw a 30 percent surge in the number of people travelling abroad via its agents in January. Half of them travelled to Southeast Asia.
According to Yonhap, the cut of fuel surcharge on flight tickets by the country's leading carriers such as Korean Air and Asiana Airlines due to plummeting oil prices is attributable to the growing number of the RoK's outbound visitors.