Vietnam Airlines has established a new program for frequent fliers aboard their international flights called the "Big Customer Program".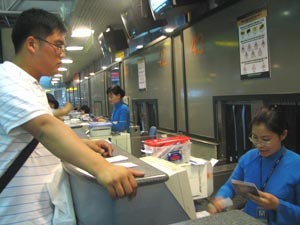 Viet Nam Airlines' ticket office. (Photo: T.C)
Once customers have gathered a minimum number of points, they can redeem them for flight tickets, baggage fees, or upgrades to higher class seats. Both personal and company cards will be issued, giving priority to the card holder for all Vietnam Airline flights.
To participate in the program, all companies and organizations (except travel agencies, ticket agents, and labor export companies) must meet the following conditions: be located in Viet Nam, have a business license, and purchase a minimum of US $40,000 worth of overseas flights per year.  If the total value of points for one quarter exceeds US $10,000, customers will gain additional points.
To take part in the program, customers need only to fill out a registration form. The agreement can be reached directly through Vietnam Airlines or through either of their two official agents. Ticket reservations can also be made through those channels. The agreement is valid for one year.