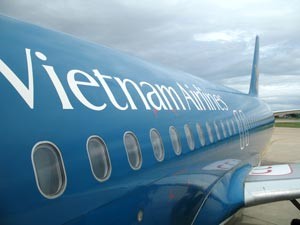 A Vietnam Airlines plane (Photo: Tuong Thuy)
Vietnam Airlines resumed Saturday its service to the Suvarnabhumi international airport in Bangkok as the airport had taken up again its full operation after a long shutdown due to anti-government protesters' blockage.
Twenty stranded Vietnamese passengers were brought home on the first flight that landed Vietnam at around 2 p.m.
Two other flights, one from Hanoi and the other from Ho Chi Minh City, are scheduled to land at Suvarnabhumi later Saturday.
Nguyen Khoi Nguyen, Chief Representative of Vietnam Airlines in Bangkok, said two regular Vietnam Airlines flights from Hanoi and Ho Chi Minh City to Bangkok will take off as usual thereafter.
Thailand's Suvarnabhumi airport, one of Asia's largest, resumed full operations on December 5 after the more than ten-day-long shutdown because of a political crisis.