The national flag carrier Vietnam Airlines (VNA) suddenly announced it would temporarily cease applying its special airfare scheme for agencies participating in a domestic tourism stimulus program between July 1 and August 15, 2010, said Tran The Dung, vice deputy head of the Ho Chi Minh City Tourism Stimulus Group.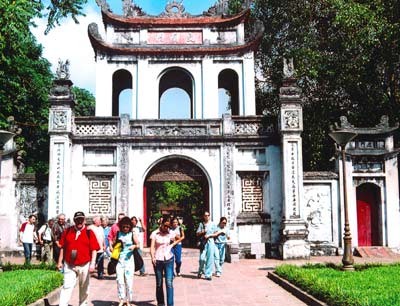 Van Mieu Quoc Tu Giam (Temple of Literature), a tourist destination in the North
Mr. Dung, also director of the Young Generation Tourist Company, said the decision will negatively impact tourist companies and the tourism stimulus program "Vietnam – your destination'' launched by the Vietnam National Administration of Tourism.
 
Participating in the stimulus program, VNA had pledged to cut airfares for domestic tours provided by travel agents that join the program until the end of this year, excepting specific holidays.
 
Travel agents speculated that perhaps so many customers have exploited the low-cost air tickets that VNA had to adjust its program.
 
Under the Vietnam Airlines' special airfare program, the HCMC Tourism Stimulus Group attracted 4,052 tourists to central and northern provinces in all-inclusive tours packaged together with low-cost airfares this June.
 
Tours were offered at rates discounted by 30-35 percent. The number of tourists soared by three times compared to that of May, and ten times over the same period last year when the first tourism stimulus campaign, "Impressive Vietnam," launched.
After the launch of the first tourism stimulus campaign, authorities and businesses of Vietnam's tourism industry announced the second tourism stimulus campaign of 2010, "Vietnam – Your destination," with the hope of attracting more domestic travelers as well as foreign tourists. The program's goal is to welcome 4.2 million International arrivals and 27-28 million of domestic tourists.
Realizing the opportunity to boost revenues, many businesses within the tourism industry have come to support the new campaign. Hotels, restaurants and other businesses related to tourism have dedicated a variety of discounts to customers participating in the program.