Nearly 3 million foreign tourist arrivals visited Vietnam in the first six months of 2011, a year-on-year increase of 18.1 percent, reported the Vietnam General Statistics Office.
Over the past six months, tourists visiting Vietnam for travel and recreation reached more than 1.77 million, a year-on-year increase of 11.2 percent, while more than 493,000 arrivals came to Vietnam for business purposes, a decrease of 1.7 percent and nearly 513,000 arrivals arrived in Vietnam to visit relatives, a rise of 77.6 percent. For other purposes, the figure was about 186,000 arrivals, a surge of 49.7 percent. On the whole, 2.97 million tourists entered Vietnam for the first 6 months.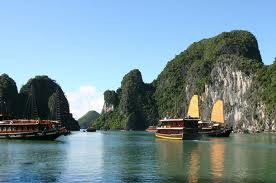 Ha Long Bay, a favorite spot for foreign tourists
Most tourists came to Vietnam by air, with nearly 2.5 million arrivals, making up 83 percent and a year-on-year increase of 23.8 percent.
China still led among markets seeing increasing number of foreign tourists to Vietnam with 662,500 arrivals, up 51.5 percent, followed by the Republic of Korea with nearly 262,000 arrivals, up 3.7 percent, the US with nearly 239,000 arrivals, up 3.4 percent and Japan with 235,000 arrivals, up 11.7 percent.
Over the past six months, Cambodia saw the highest rise in the number of tourists to Vietnam with 77.4 percent compared to the same period last year.