Websites of Khanh Hoa Department of Tourism, Culture & Sport and Ninh Thuan Tourism Promotion Center have recently been set up Russian version because they both said that the central provinces of Khanh Hoa and Ninh Thuan have recently become two destinations to attract much more than Russian tourists.
As of resorts, hotels or restaurants in Binh Thuan province have also added Russian language into their menu and changed even their signboard by English into Russian. As many as international and domestic visitors have gradually named "Russian Village" for Mui Ne of Binh Thuan Province. Most of Russian tourists have spent long period in Mui Ne.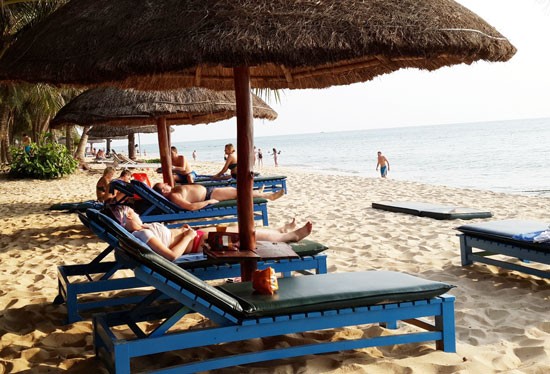 Russian tourists often book for long period stay in Vietnam -Photo: SGGP
According to statistics from the Vietnam National Tourism Administration (VNTA), in last two years, Vietnam welcomed over 600,000 Russian visitors. In 2012, Vietnam received 174,000 Russian tourists, up 71 percent compared to 2011. In 2013, 298,000 Russian tourists toured Vietnam, a rise of 71 percent, compared to 2012. In the first nine months of 2014, as many as 265,000 Russian tourists visited Vietnam, a year on year increase of 128 percent.
VNTA said the country expects to welcome one million Russian tourists in 2020 and it will be able to reach the target because of Nha Trang, Mui Ne, Phu Quoc, Vung Tau have recent become more attractive destinations to Russian tourists.
A survey from VNTA showed that Korean tourists often spend an average of US$ 1,200 in their two weeks of travel; Japanese of US$ 1,500 while Russians spend US$ 2,500, higher than an average level of US$ 1,143 when they stay in Vietnam.
With such potential from Russian tourists, Vietnam tourism industry and local tourism agencies have invested to promote more and more attractive destinations to welcome Russian tourists. To date, all foreigners visiting Phu Quoc receive a free 30 day visa and this is a good opportunity for Phu Quoc to welcome more and more visitors.
Anh Duong Company, one of partners of Pegas Touristik said it has taken over 55 percent of Russian tourists to Vietnam, meaning Vietnam is considered as new destination to Russian people.
At present, there are many direct flights from Russia to Cam Ranh of Khanh Hoa province and Phu Quoc district of Kien Giang province.
Many local agencies affirmed that Russian visitors traveling to Vietnam have been rapidly increasing in the recent years.