The Center of Incentive Tour and Events (CITE) of Ben Thanh Tourist Company will coordinate with Viet Nam Airlines and German Maritim Hotel to organize a "Food Festival" in Martim Hotel, Frankfurt. The festival will take place on September 22 – October 1, aiming to introduce the unique Vietnamese food culture.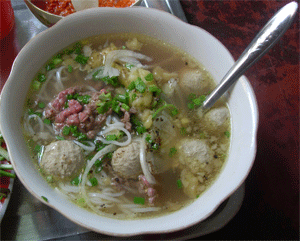 Pho, a Vietnamese speciality (Photo: KK)
Vietnamese cooks will present such specific materials as Pho (Vietnamese noodle soup) favor, Momordica Cochinchinensis (qua gac), pandanus leaf, pachyrrhizus, taro, and various kinds of flour and stichky rice, ect. which are usually used to make Vietnamese dishes.

Ms. Lam Thi Dau, with over 18 years' experience in introducing Vietnamese foods and drinks and in teaching cookery in the Ho Chi Minh City Women's Cultural House, was chosen to lead the delegation of Vietnamese cooks to Germany on September 16 for the festival.