The ASEAN Foreign Ministers Meeting in Malaysian capital Kuala Lumpur ended on signing an agreement on mutual 14-day visa exemptions within ASEAN. How will Vietnamese tourism prepare for this opportunity?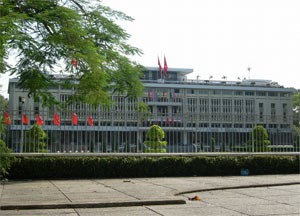 The Reunification Palace, one of favorite destinations of foreign visitors in HCMC. (Photo: KK)
Visa exemptions within ASEAN would make traveling between ASEAN countries easier and could cause an influx of ASEAN tourists to Viet Nam, but the country will have to make adjustments if it wants to meet exemptions.
A teacher who returned home from a tour to Thailand amazedly narrated her trip. A Thai tour guide who can speak Vietnamese was arranged to welcome Vietnamese visitors.

She was so surprised because street vendors in Thailand also know Vietnamese. She asked to buy some guavas and the fruiterer fluently replied in Vietnamese.
Thailand has obviously made some conscious efforts to accommodate Vietnamese visitors, the number of whom has accounted for 20% of the total amount of foreign visitors to Thailand.
This showed that Thailand had careful preparations and that the cooperation between tourism and restaurants, hotels, airlines and localities was very good.

If Viet Nam wants to catch this big opportunity and keep up with the globalized tourist industry, it must make more accommodations for ASEAN tourists.