Viet Nam's EUR60 million Lotus cruise ship which travels between Ha Long Bay in the northern province of Quang Ninh and Ho Chi Minh City, docked at Nha Rong Habor for the first time yesterday.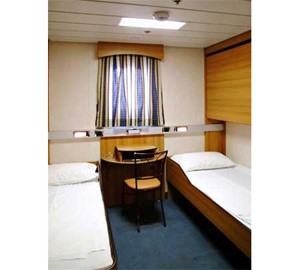 A cabin equipped with state-of-the-art facilities
The high-speed ferry regarded as the most luxurious and modern cruise liner in Viet Nam has just been launched by state-run Vinashin in the middle of December.
"I am so pleased with the crew, staff and the service provided on the liner. I do not get motion sickness like when I take a ride in a car or train. We are very comfortable with the ultra modern and comfortable facilities, except the staircase. However, the formalities should be improved and simplified" said a passenger.
The ship was purchased in Italy at a cost of VND1,320 billion (EUR60 million) and aims at offering travelers the best international service, says the company. It is 187 meters long and 25 meters wide, and can transport 1,000 passengers and 500 cars.
Related artilces:
Luxury Lotus High-Speed Liner Starts Its First Voyage
High-Speed Cruise to Ply Ha Long - HCMC Sea Route