Mr. Nguyen Cam Luy, the man who has gained fame in recent years for straightening crooked buildings and moving houses and other structures using nothing but levers and pulleys, reckons he can restore the collapsed rock pinnacle known as Hon Phu Tu (Father and Son). Whether he gets the job remains to be seen as the final decision will be made by the Vietnamese government, which will also decide who will pay for the massive repair.

The "Lamp Genie", as many people call him, says he has been to Kien Giang province to inspect the damage and is confident he can reassemble the 700 tons of boulder-sized rubble, which comprised the top half of the pinnacle, in an upright position.
Mr. Bui Ngoc Suong
Mr. Bui Ngoc Suong, chairman of the Kien Giang People's Committee, says his office has received hundreds of thoughtful suggestions for what to do about the famous landmark, which shows just how much the public cares about "this natural wonder". Mostly the people lean towards restoring it.

The province is waiting for more ideas to come in from scientists, engineers, other experts and government departments, and has been in contact with the Ministry of Culture and Information to discuss the problem.
For now Kien Giang and the ministry have decided to hold a seminar to determine the most practical and sensible solution.

"A proper inspection of Hon Phu Tu will tell us whether the risk of it disintegrating entirely is too high; then we'll take the appropriate action," says Chairman Suong.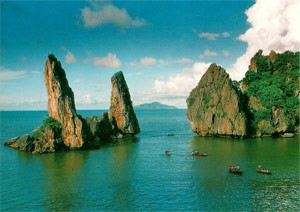 The Father and Son rocks before the Father rock collapsed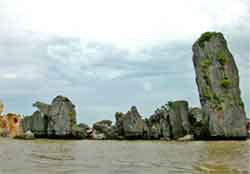 and after the Father rock collapsed


Prime Minister Nguyen Tan Dung has already given the go-ahead to fix the double pinnacle by the sea (the "son" is at risk of sharing the fate of the "father").

In a missive to the provincial authorities, Mr. Dung stressed the importance of using natural stone to fix Hon Phu Tu, and of retaining its spirit in whatever new form it took.

He said the best method would be to reassemble the collapsed rocks on top of the remaining stump, then fix them in place with steel rods.