More than 3,000 visitors Thursday had a chance to taste a variety of wines free of charge in a wine festive night at the 2007 Da Lat Flower Festival.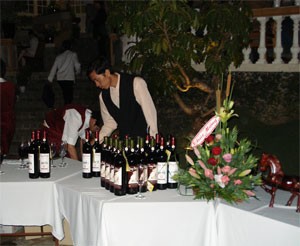 Wine is something you can get free of charge in 2007 Da Lat Flower Festival (Photo: Thuy Hang)
The event was held in the streets of Da Lat near Xuan Huong Lake and was sponsored by Lam Dong Food Joint-Stock Company (JSC), Lam Dong Wine-Beer-Soft Drinks Company, Cau Dat Joint-Stock and Vinh Tien Ltd., Co.

The Lam Dong Food JSC introduced four kinds of wine named after four flowers: Marguerite, Pensée, Wild Rose and La Tulip.

Da Lat wines, which have won the "Vietnamese High Quality Goods" tag for six years running, are made from grapes or mulberries with the traditional fermentation process.

The same day, some 20,000 students and youths in Da Lat took part in a street carnival with their vehicles decorated with flowers, wine barrels, tea cans and musical instruments, like accordions, harmonicas and guitars.