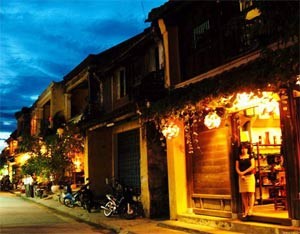 Hoi An ancient town.
A groundbreaking ceremony took place yesterday in Hoi An to kick off construction of the "Cotec" Plaza. Funded by the Cotec Technical Construction and Building Materials JSC, the project will cost an estimated VND40 billion
.
Covering an area of approximately 9,150 square meters, the plaza will have a two-storey restaurant, an office building and an entertainment area featuring a shopping center and cultural center for organizing festivals, art performances, international exhibitions and conventions, Dr. Dao Duc Nghia, Chairman of Cotec Corp, said.
Construction of the building is scheduled to be complete by 2009.