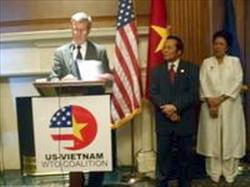 Legislation granting PNTR status for Viet Nam is introduced at the US Congrees on June 13.
120 members of the US-Viet Nam WTO Coalition sent a letter to the US Congress on June 22 to show their support and urge Congress to pass by August the H.R.5602 bill, a legislation granting the Permanent Normal Trade Relations (PNTR) status for Viet Nam.


The letter said, "Congressional approval of PNTR for Viet Nam is a necessary step for the US business community to take full advantage of the benefits that will be granted to all World Trade Organization (WTO) members after Viet Nam's accession. Without PNTR, the US will be the only WTO member that cannot get access to the new market now openning for goods and services."


"Viet Nam is one of the fastest growing economies in the world and is the fastest growing market for US products in Asia. Upon joining the WTO, Viet Nam will eliminate domestic subsidies, cut tariffs and reduce trade barriers on a wide range of US manufactured goods, farm products and services."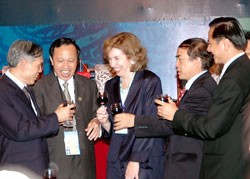 Vietnamese and US delegates celebrate their bilateral agreement of Viet Nam's WTO accession. (Photo:VD)
"WTO membership also compels Viet Nam to abide by international laws and practices, and thereby, levels the playing field to enable American companies and products to compete more effectively. Vietnam's joining of the WTO will present great opportunities for American businesses, workers, farmers and consumers."

The coalition's letter also said that timely approval of PNTR is essential not only to US business interests and the overall US trade agenda, but also to US foreign policy interests.

Previously, a total of 157 US enterprises, chambers of commerce, business councils and associations such as giants Intel, ABB, Cargill, Lockheed Martin…have urged the US Congress to "approve three important trade agreements that promote US economic growth by opening foreign markets for American workers, farmers, and businesses."

Among the three important trade agreements mentioned in their joint letter sent to Speaker of the US House of Representatives Dennis Hastert on June 21 is the legislation granting Permanent Normal Trade Relations (PNTR) to Vietnam.

"These three agreements will level the trade playing field, expand US export opportunities, promote the rule of law, and strengthen our foreign policy and national security relationships with critical trading partners," the letter said.
The granting of PNTR status to Vietnam "would enable the US to receive the full benefits of Vietnam's impending accession to the World Trade Organization (WTO) and would advance and deepen burgeoning bilateral economic relations with one of the fastest growing economies in Asia," said businesspeople in the letter.