A reporter of the Sai Gon Giai Phong Newspaper, which started the program, was informed that there was a man living in Hai Duong province, who had been collecting the memories of the soldiers in the wars against the French and the US, especially souvenirs of those going to the Southern battlefield, coded B Battlefield.
Nowadays, his collection becomes a mini museum visited by a lot of people nationwide every week. He is Pham Chi Thien, 54, living in Ke Sat Town, Binh Giang District, Hai Duong Province.

Every souvenir is a story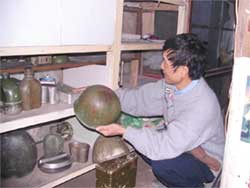 Thien is introducing his collection (Photo: N.T.X.A)
Walking into Thien's small and stuffy house, we were welcomed by rows of shelves filled with souvenirs from soldiers of the wars against the French and the US, and especially those from the soldiers of the Southern battlefield in the American War.

Explaining his idea of collecting soldiers' souvenirs, Thien took out three things, a soldier coat, a mug made from shrapnel bomb's shell, and an anti-aircraft soldier's helmet.

Pointing to a shelf brimful of war souvenirs, Thien said, "I still have other exciting souvenirs to show". He took out a number of soldier's rice bags, rucksacks, shoes, canteens, flare parachutes, camouflaged combat clothing for scouts, hammocks, parachute-fabric mosquito-nets, an ammunition box, belts, compasses, pens and knifes.

Those were the inseparable things of soldiers in war time and their memories of a heroic history in peacetime. But they were willing to give Thien their souvenirs when they knew his idea of having a display of war items right in his village.

Veteran Nguyen Xuan Linh, 62, Chairman of Binh Xuyen Commune Veteran's Organization, was a soldier in the Quang Tri battlefield in 1971. His troop wiped out an American squad in a combat, and he collected war booties including an U.S. belt, an ammunition box, a wrench to fix artillery and especially a Pilot trademark pen.

After the South was liberated in 1975, he kept those souvenirs in a trunk and put it behind his parent's altar. When Thien asked for those, Linh gave them to him after carefully lighting three incense sticks to demonstrate his respect to those souvenirs.
The story of the canteen of Mr. Nguyen Van Thanh, 60, in Moi Hamlet, Vinh Tuy Commune, Binh Giang District, is very moving.

After a raid of the U.S. army in 1972, many of his comrades were injured. It was so hot and all canteens were empty, except Thanh's. They shared with each other to the last drop. This act of kindness saved his squad from being swept away.

After the war, Thanh kept that canteen on the solemnest place in his house. But Thanh thought it is more significant and meaningful to put the canteen on display together with other war souvenirs. Therefore, he decided to give it to Thien.

Is a museum for the souvenirs possible?

"I have traveled across Viet Nam, to Hai Duong, Hai Phong, Ha Noi, Thai Binh, Hung Yen, Quang Ninh, Hoa Binh, Nghe An, Thua Thien Hue and Ho Chi Minh City, for 30 years in order to collect the souvenirs. The first one was an electric generator box used by medics in the anti-American war," Thien said.

Leading us upstairs, he talked about the electric generator box while activating it, "There was no electricity in the battlefield. So, to have light for operations, the medics had to use this gadget to generate electricity by winding the handle. I got it from a veteran living in Tan Truong Commune, Cam Giang District, Hai Duong province."

Pham The Luong, Thien's father, died in the anti-French war in 1952. Being the only son of the martyr, he did not have to serve in the army. During the time in the Ha Noi University, he thought of collecting war souvenirs as a way to commemorate the national heroic war martyrs. And through the souvenirs, Thien wanted to partly help the young people learn about the war.

In 1990, because of economic difficulty, Thien had to quit his teaching job the Binh Giang Province High School to sell pork in the market. But he still collected souvenirs. "Up to now, I have collected hundred of souvenirs. Now my only wish is to have a small house to display my collection. I need money for the construction," Thien said.