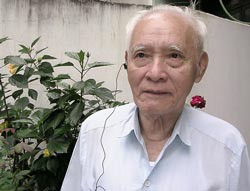 Colonel Nguyen Danh (Photo: Thu Huong)
The unique and valuable records of Colonel Nguyen Danh, who was one of the first soldiers walking along Truong Son Mountain to the Southern battlefield in the anti-American war, are kept carefully by Ho Chi Minh City Museum.

They include "Historical Chronicle of Ho Chi Minh Road (from May, 1959 to May, 1965)", "Ways of the Resistance War", "16 years in Truong Son Mountain", some documentation about Truong Son Mountain, a diary along the Truong Son road, "Witnesses on Truong Son Road (1959-1976)".   
Though being on the Truong Son road when it was still under construction and travelling the road so many times, Colonel Danh cannot keep any souvenirs after the war.

During his service in the wartime, he had his shelters bombed twice. Fortunately, as the shelters were strong, he only lost part of his hearing. In another time, a convoy was bombed, and the most damaged truck was the one Colonel Danh had intended to sit on.

The soldiers in Truong Son Mountain had to face so many dangers. After the war, his house was already burned to the ground. Everything was destroyed, even the newly-given uniform. His fellow soldiers teased, "You've got nothing left, even the uniform, when you come back home". But he just smiled and said, "I shook hands with Uncle Ho, and had a lot of memories in my heart. And the most important thing is that I am still alive. It is really the happiest thing."

The veteran is now over 80. One of his ears was damaged by the bombs in the war. He has to use the hearing-aid while speaking, but his eyes are sparkling when someone mentions Truong Son Mountain.