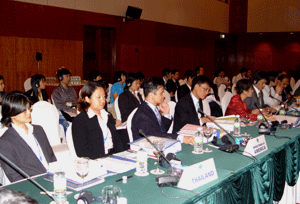 Delegates at the Meeting. (Photo: www.apecfmm2006.org)
From June 14 to 16, 2006, the 22nd APEC Finance Ministers' Technical Working Group Meeting (TWG) takes place in Nha Trang Province with the attendance of representatives from 21 APEC member economies, and international organizations (IMF, WB, ADB).
The meeting prepares agenda for discussion at the APEC Finance Minister Meeting (FMM) based on the economic reports of Viet Nam, other member economies and of international organizations.
Items on the agenda will include promoting public finance efficiency and sustainability; working toward stable and efficient revenue sources; and improving financial sector to attract investment capital flow.
Delegates to the meeting also discuss the macroeconomics and financial reforms within the region and worldwide, and the preparation for the APEC FMM in September, 2006.