Viet Nam is prepared for the APEC Viet Nam 2006 Economic Leaders' Week which will host some 10,000 delegates and more than 2,000 Vietnamese and foreign reporters, said a senior official of Viet Nam's Ministry of Foreign Affairs on Thursday.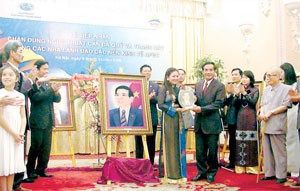 The APEC Secretariat receives stone portraits of APEC leaders from Ho Chi Minh City businesses  

Deputy Minister Le Cong Phung, the 2006 Chair of APEC Senior Officials' Meeting, said in a press conference that all preparations, from program contents to logistics and security procedures for the upcoming APEC Economic Leaders' Meeting have been completed.

"Security is our top priority," said Phung, adding that the Organizing Committee has detailed security schematics drawn-up for all the participants.
From the meeting venues, airports, hotels, to ensuring sanitary food, healthcare, and road safety, the well-being of all participants is vital to the success of the APEC Leaders' Week.

The security focus will be on 17 key events during the period of November 12th to the 19th, including the 14th APEC Economic Leaders' Meeting (AELM 14 - Nov. 18-19), the 18th Joint Ministerial Meeting (Nov. 15-16), the Concluding Senior Official's Meeting (CSOM - Nov. 12-13), the APEC Business Advisory Council (ABAC - Nov. 14-16), and the CEO Summit (Nov. 17-19).

In addition to these meetings, there will be many other significant events with the participation of more than 700 prominent business leaders in the Asia-Pacific region, including a series of workshops, exhibitions, and networking opportunities, with entrepreneurs and government's officials on hand.
Deputy Minister Le Cong Phung has given assurances that each event will be well executed and safe for all those participating.

With security concerns addressed, those leaders coming to Viet Nam for the APEC Economic Leaders' Meeting will be free to concentrate on the issues at hand. The 14th APEC Economic Leaders' Meeting will focus discussions on two major issues.
The first is how to advance trade liberalization and the implementation of the Ha Noi Action Plan. The second key issue for discussion focuses on fostering human security through international trade alongside the cooperative efforts of the science and technology sector.

As a means of fostering a positive start to the upcoming proceedings, Ho Chi Minh City area businesses have contributed 19 sand portraits by artist Y Lan and hundreds of bottles of the deluxe perfume, Miss Saigon Elegant, by Sai Gon Cosmetics Company to APEC delegates. 

Moreover, the APEC Secretariat has also received many valuable gifts, including stone portraits of the 21 APEC leaders created by the Than Chau Ngoc Viet Company. Silk hand-made shawls were also donated by the Viet Nam Silk Company to the wives of the APEC leaders.