Foreign direct investment attraction was one of the prominent themes discussed by chief executive officers during the first day of the three-day APEC CEO Summit.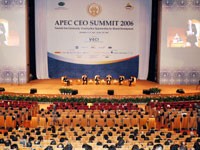 At the meeting
Delivering a speech, entitled "Successfully Competing for FDI: Lessons Learnt from the East Asian Economies," on the afternoon of November 17, Singaporean Prime Minister Lee Hsien Loong stressed the need for countries to make strategic decisions to be more active in participating in the process of globalization, to pursue macro-and micro economic policies to maintain confidence among investors and to make efforts to build development capabilities for the future.
"Investment, and particularly FDIs, is a critical factor in promoting growth and development. They help to increase productive capacity, bring in modern technology, open up access to overseas markets, increase jobs and raise living standards for the people," the PM said.
He went on to say that global FDI flows have increased dramatically, reaching nearly USD1 trillion in 2005 and that East Asia has been successful in attracting a fair share of these investment, with around one-fifth of the total inflows going into the region.
However, the PM added, "Competition for FDIs has sharpened, with countries vying more aggressively for investment projects than ever before".
Thai PM Surayud Chulanont shared Thailand's experiences in his speech, themed "Reform and FDI: A view from Thailand," said that his country's principles, such as transparency, justice, efficiency and the economical and sustainable use of resources help attract FDI.

These lay a foundation for Thailand to build a strong and knowledge-based society, he said.
While discussing, various delegates shared the same view that Viet Nam's economy is developing vigorously along with the process of openness and acceleration of trade and investment liberalization. Viet Nam is emerging as an attractive destination for FDI, including investment from big groups, they said.
According to delegates, World Trade Organization membership would open up new opportunities for investors as well as enterprises, and investment in Viet Nam would continue to increase in coming years.
Also on the afternoon of November 17, delegates heard New Zealand PM Helen Clark's speech, themed "Sustaining economic reforms: the challenges for Government and businesses" and Indonesian President Susilo Bambang Yudhoyono's speech, entitled "Economic security threats: Are responses adequate?"
In the evening of the same day, the Viet Nam Chamber of Commerce and Industry hosted a banquet in honor of delegates to the APEC CEO Summit.