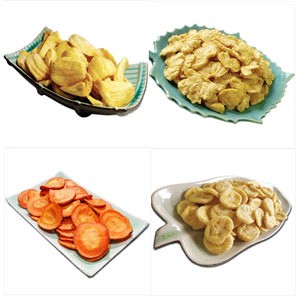 Fruit chips of Vinamit
The APEC Economic Leaders' Meeting of 2006 will be held in Ha Noi in the coming days. Local firms believe the event will give them the opportunity to showcase their products and services to investors, policy makers, and business leaders from abroad.
As a result, the primary cuisine served at the APEC events will be Vietnamese foods.
The government selected three of the most recognizable Vietnamese companies to provide food and beverages to the APEC delegates.

Those companies are Vang (Wine) Da Lat's of Lam Dong Food Joint-Stock Company, Vodka Ha Noi of the Ha Noi Liquor Company, and Vang (Wine) of the Thang Long Joint-Stock Company.
Additionally, coffee giant Vinacafe was given the honor of offering its product to the invited delegates as well. The coffee will be offered as a gift to those in attendance for the APEC events.

Also, the delegates will be able to enjoy top-notch confectionery provided by Bibica, and fruit chips provided by Vinamit. On November 9, Vinamit delivered 500 kilograms of agricultural foods and fruit chips (equal to 2 tons of fresh agricultural foods) from its base in Binh Duong to Ha Noi.
Nguyen Lam Vien, CEO of Vinamit, said that they are acutely aware of the benefits brought by advertising their brand name products at the APEC gathering. He claimed that the potential exposure is worth much more than his company's US $3,125 contract for being a sponsor of the event.
Local Tourism Showcases Its Advantages
The Vietnam National Administration of Tourism has selected 32 hotels and 400 restaurants to provide accommodations for the delegates of the 2006 APEC gathering.

The restaurants will serve a variety of Vietnamese, European, Chinese, and Thai dishes, while the hotels will provide rooms as well as transportation services.
In addition, travel agents in Ha Noi have set up a number of special tours for the APEC delegates.

For examples, a "cooking tour" has been arranged by Vietravel, where guides will take the APEC delegates through dozens of Vietnamese markets, helping them buy materials to cook traditional Vietnamese foods.
Hanoi Tourist is offering the delegates traveling tours of the Nha Trang Province and Ho Chi Minh City after the APEC meeting have concluded.