The meetings on May 26, part of the APEC Second Senior Officials Meeting (SOM II) in Ho Chi Minh City, dealt with important issues for the APEC Ministers Responsible for Trade (MRT) meeting, APEC Ministerial Meeting (AMM) and the APEC Economic Leaders Meeting (AELM) in Ha Noi in November.
On the final day of the Committee on Trade and Investment (CTI) meeting, participants continued discussing topics of investment, intellectual property protection, transparency, anti-corruption and structure reforms.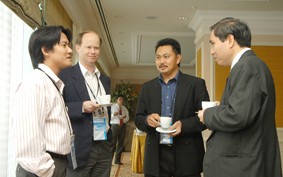 Delegates discuss in the break time
Representatives from 21 CTI member economies, heads of APEC working groups and other participants discussed ways to contribute to the "Pathfinder Approach", part of the "Trade and Investment Liberalization and Facilitation" (TILF) program and related projects.
Ms. Carol Yip, who chaired the CTI meeting, said the MRT meeting needs to work out firmer and stronger announcements for the WTO's Doha Development Roadmap.
The Human Resource Development Working Group also wrapped up its meetings on May 26 after five working days. Ten of the proposed projects were ratified with over US$800,000 to carry out them. The capital will come from the APEC budget and the APEC member economies.
Proposals on the security of radioactive materials, foods, aviation, rail and mass transit security and counter-terrorism financing improvement are high on the agenda of the APEC Counter-Terrorism Task Force (CTTF) Meeting, which began on May 26.
General Benjamin Defensor, the Philippines' military chief and mobile ambassador of CTTF, is chairing the CTTF meeting. The two-day meeting also deliberates issues concerning anti-terrorism experts, actions to control the smuggling of weapons of mass destruction, a biometric workshop and inter-cultural and faith initiatives.
The general said on May 26 that CTTF has got a list of places warned with terrorism. By the year-end, CTTF will conduct a regional large-scale anti-terrorism rehearsal at Tan Son Nhat Airport in Ho Chi Minh City or Noi Bai Airport in Ha Noi.
The Task Force for Emergency Preparedness (TFEP) conducted one meeting on May 26 to discuss activities to improve preparedness and how to react with emergency. It agreed to conduct a rehearsal on June 7-8 with the situation being bird flu becomes avian influenza epidemic on human. Eight original APEC member economies, including Viet Nam, will join the rehearsal. Australia will plan and organize the rehearsal. The results and lessons from the rehearsal will be submitted to the APEC Ministerial Meeting, APEC Economic Leaders Meeting in Ha Noi in November.
The SOM Friends of the Chair Group (FOTC) on the Action Plan to implement the Busan Roadmap are due to take place on May 27.

Related articles
APEC Senior Officials Continue Fourth Working Day

APEC Senior Officials Enter Third Working Day