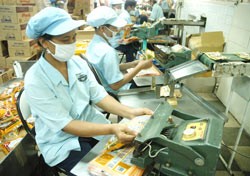 Micro enterprises play an important role in economies (Photo: Duc Thanh)
APEC economies need to create favourable conditions for micro enterprises by simplifying administrative procedures and facilitating their accession to resources, especially financial resources by making minor loans available.
Speaking with reporters after the 7th APEC Micro Enterprises Sub-group (MESG) Meeting closed in Ha Noi on Sept. 25, Nguyen Hoa Cuong, from the Ministry of Planning and Investment's Department for Small- and Medium-sized Enterprise (SME) Development, said all the participants had agreed that APEC economies should help to strengthen cooperation among micro enterprises and related organisations.
They also emphasised the necessity of providing information technology (IT) and telecommunication training for the enterprises to help them to introduce their products on the Internet.
At the meeting, the participants praised the theme of "Strengthening Micro Enterprises' Capacity to Integrate into the Market", an initiative of Viet Nam for regional micro enterprises' cooperation in 2006.
Nine APEC member economies, including Indonesia, Chile, China, Canada, Australia, Thailand, Malaysia, Singapore, and Brunei, and representatives from the APEC Women Leaders' Network delivered speeches in support of the theme.
Measures discussed at the meeting will be compiled for the Meeting of APEC Small- and Medium-sized Enterprises Working Group, which will open on Sept. 26, Cuong added.
The delegates agreed to organise the 8th MESG meeting in Australia on March 4, 2007.
Source: VNA