The Second APEC Senior Officials Meeting (SOM II) officially started in Ho Chi Minh City on May 30 after related meetings began on May 22. SOM II will be followed by the Meeting of APEC Ministers Responsible for Trade (MRT) on June 1-2.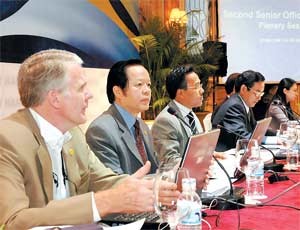 SOM II officially starts (Photo: SGGP)
The agenda includes APEC's role in concluding current WTO negotiations, ensuring best practices for the signing of free trade agreements and enhancing human security.
First Deputy Minister of Foreign Affairs of Viet Nam and Chair of the 2006 Senior Officials Meetings, Mr. Le Cong Phung, said one of the most important issues for senior officials would be the consideration of input from the APEC Geneva Caucus on current WTO negotiations.
The delegates heard reports from committees, sub-committees, task forces and working groups in the APEC and agreed to propose that the APEC Trade Ministers issue a statement to serve as a strong political message, on a timely conclusion for the Doha negotiations.
They unanimously agreed on a framework of an action program to implement the Busan Business Agenda towards the Bogor Goals to submit to Trade Ministers.
The senior officials gave guidance to the Committee on Trade and Investment (CTI) to build sample terms for regional trade agreements and free trade agreements (RTAs/FTAs). They also approved a working program in 2006 for the SOM Steering Committee on Economic and Technical Cooperation (SCE), which aims to improve its capacity for the Busan Agenda implementation.
The meeting passed the 2006 working program of the Task Force for Emergency Preparedness, applauding the preparations for a rehearsal of a fight against an avian flu pandemic on people.
The initiatives ratified at the meeting included the Philippines' proposal on an APEC Counter-Terrorism Guidebook, Australia's project to conduct anti-terrorism financing workshops, and the US's suggestion on food security.
The participants agreed to continue drafting APEC reform plans. SOM II also passed the plan to organize the second APEC Film Festival; discussed reports by committees, sub-committees, task forces and working groups about transparency, intellectual property protection, technical economic cooperation, human security, initiatives for energy security, and many other issues.
Related Links:
APEC
APEC Viet Nam 2006