Senior APEC (Asia Pacific Economic Cooperation) officials met Monday at the Conference on Good Regulatory Practices in the central city of Da Nang to discuss ways to ensure international product standards in Viet Nam's developing economy.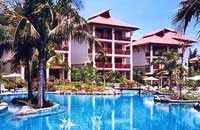 The conference is held in Da Nang's Furama resort on Sept 4

The third APEC Senior Officials Meeting (SOM III) kicked off with the Sub-Committee on Standards and Conformance's (SCSC) conference where delegates from 21 APEC member economies discussed obligatory technical standards for products based on health, safety, environmental protection and consumer protection.

The conference aimed to make Viet Nam privy to the international experiences of other countries so that Viet Nam may make educated decisions later this year when issuing decrees to conduct the Law on Technical Standards and Conformance approved by the National Assembly in June.

Viet Nam has yet to build a system of technical standards in conformity with international practices. Recently, Viet Nam has drafted some fundamental regulations on standards and conformance, but has yet issued guidance measures to implement them.
"In any economy, the regulation of technical standards for products has a profound effect on the development of enterprises, particularly small and medium enterprises," said John Henry, a conference delegate from Australia. "The governments' responsibilities are to strengthen good regulatory practices and control product quality before and after goods reach the market".

He added that a good way to regulate standards is to improve transparency and non-discrimination with enterprises.

Chairman of the conference Nguyen Van Hoc, also head of the Viet Nam Standard-Measurement-Quality Bureau, said: "Taiwan raised a good point about analyzing and assessing the risks of regulations in order to know exactly what is good for enterprises".

SOM III will host forty meetings in Da Nang and Hoi An until September 17 in preparation for the annual APEC Summit to be held in Ha Noi this November.