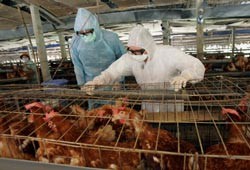 APEC ministers visit a private chicken farm in Danang (AFP Photo)
Asia-Pacific health ministers and officials went to the frontline in the global war on bird flu Saturday -- a Vietnamese poultry farm with 7,000 chickens.
The delegates, wearing protective suits, face masks and goggles, inspected the farm, where the egg-laying hens had been freshly vaccinated, wire mesh kept out wild birds, and disinfectant lime was scattered in the sand.
"I'm no expert on Vietnamese agricultural practices, but I do find this to be impressive," said John Lange, the US State Department's top official on avian influeza, at the farm outside the central city of Danang.
The health experts were on a field trip following an Asia Pacific Economic Cooperation (APEC) meeting here on the threat of a bird flu pandemic, which recommended steps including a shift toward modern, biosecure farms.
In Viet Nam and elsewhere in Asia, chicken and ducks are traditionally kept in family backyard farms, transported live in baskets on motorbikes to 'wet markets' and slaughtered there or in people's homes with a hatchet.
"Restructuring the poultry industry is a big challenge because there are millions of small backyard farmers, and they need investment," said He Changchui, Asia-Pacific chief of the UN Food and Agriculture Organisation.
"It's not yet possible that all commercial facilities are biosecure, although that is our objective."
This included securing and protecting workers and consumers in "the whole chain, from production to market," to ensure the deadly virus has less opportunity to infect humans.
"We need to restructure the poultry sector and set up better veterinary services," said Agriculture Minister Cao Duc Phat. "It will be a long process. It cannot be done very quickly."