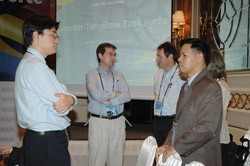 Members of the Counter-Terrorism Task Force discuss in the break time (Photo: Viet Dung)
During the APEC Second Senior Officials Meeting II in Ho Chi Minh City, the Counter-Terrorism Task Force (CTTF) wrapped up its meeting on May 27 after agreeing on initiatives, which are about ensuring security for radiation sources, food protection, aviation security, railway security, security for communication networks, and combating financial supports for terrorism.
The adopted initiatives include the APEC Counter-Terrorism Guidebook Proposal offered by the Philippines; Anti-terrorist Financing Project Proposal prepared by Australia; and protecting food for APEC member economies. The initiatives will be submitted to SOM II.
 
During their two-day meeting, CTTF specialists worked with officials from the UN Counter-Terrorism Committee on CTTF's counter-terrorism cross-analysis plans study, which was carried out in 2005. The participants also discussed methods of cooperation with the counter-terrorism action group (CTAG) of the Group-8.
Also on May 27, the SOM Steering Committee on Economic and Technical Cooperation (SCE) convened to discuss the reports and suggestions from working groups.
The delegates approved the SCE action plan in 2006 and orientation for the cooperation with international financial institutions (IFI). They heard reports to review the operation of working groups, specials groups and networks, and discussed and mapped out a plan to review and assess the framework on economic and technical cooperation (the Manila Framework) to submit to the SOM II for approval.
On May 28, the fourth SOM Policy Dialogue on regional trade agreements and free trade agreements (RTAs/FTAs) will take place. It will be chaired by Vietnamese Deputy Minister of Foreign Affairs Le Cong Phung, SOM Chairman of APEC 2006.
Related articles
Fifth day: APEC Discusses Anti-terrorism, Bird Flu Combat

APEC Senior Officials Continue Fourth Working Day

APEC Senior Officials Enter Third Working Day

Second day: Trade and Investment Facilitation Discussed