On May 22, the exhibitions "Welcome to Viet Nam – APEC 2006" and "The beauty of Sai Gon – Ho Chi Minh City" were open at Ly Tu Trong Park and Chi Lang Park, District 1.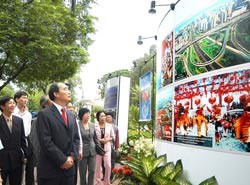 Mr. Nguyen Thien Nhan and delegates at the open-door exhibition

Those activities aim to introduce cultural, economic and tourism features of APEC member countries as well as vivid images of Viet Nam in terms of external relations, regional and global economic integration.
In Chi Lang Park, the exhibition had introduction of Sai Gon architecture from early days to date and displayed many photos illustrating the beauty of Sai Gon, socio-cultural life of the city dwellers, and beautiful spots of Viet Nam. Some photos were awarded international photography prizes; some are typical promotional posters of Viet Nam through historical stages.
Present at the exhibition were Mr. Nguyen Thien Nhan, member of APEC Viet Nam National Committee, Head of the HCMC Organizing Committee and Vice Chairman of HCMC People's Committee and representatives from General Consulates of APEC members.