Major streets in Ha Noi like Ly Thuong Kiet, Tran Hung Dao and Trang Thi and the area around Hoan Kiem Lake are sparkling with lights, flags and flowers.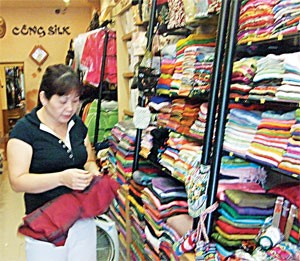 A shop in Hang Gai Street displays silk shawls and cravats  

At Viet Duc High School, many of the students are busy decorating the walls with paint "to welcome APEC", as they put it. And in front of the houses that line the main roads, the carpets of glass and flower beds are being carefully tended by their owners.

It is all because the first day of APEC summit is nearing. All Hanoians wish to make the capital more appealing and impressive to the international friends.

Deputy Minister of Foreign Affairs and Head of the APEC Secretariat Le Cong Phung said in delight, "All Vietnamese in general and Hanoians in particular are trying their best to make the capital more beautiful and to show the hospitality of Viet Nam".

Let's not forget the importance of the APEC volunteers, who are proud of their new-found role. Hanoi's young people have been enthusiastic participants in APEC activities in the past two weeks.
One day before the first day of APEC Week, every one of the hotels where the delegations are staying or meeting is being safeguarded around the clock. In the crowded streets of Ha Noi, many police officers in plain clothes are patrolling the street 24 hours a day.

The shops along Hang Dao, Hang Gai and Hang Khay streets are displaying an abundance of silk shawls and cravats bearing the APEC symbol, the stylized conical hat of Viet Nam.

Others have stocked up on paintings and inlaid boxes priced at US$10-15 to sell as souvenirs.
The shopkeepers are fully aware of the importance of the event and are out to make the most of the occasion.