The APEC-2006 Senior Officials' Meeting II (SOM II) officially convened at Ho Chi Minh City in the morning of May 22. Four meetings were held with the participation of 1,000 delegates from 21 APEC member economies. SOM II will last until May 30, 2006 with 40 meetings in preparation for APEC Meeting of Ministers Responsible for Trade (MRT) to take place on June 1 – 2 in Ho Chi Minh City.
SOM II and related meetings will discuss such major issues as the WTO, Action Plan to Implement the Busan Roadmap and Bogor targets, regional and bilateral free trade agreements, APEC Trade and Investment Liberalization and Facilitation (TILF), economic and technical co-operation, human security, reform of APEC and other issues.
Those are important events to prepare for the Trade Inter-ministerial Meeting to be held in Ha Noi in November.
Improving investment environment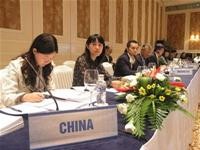 Workshop of the Investment Experts' Group (Photo: Tuoi Tre)

At the workshop of the Investment Experts' Group (IEG), delegates discussed related issues of investment attraction and promotion.
Mr. Roy Nixon, IEG meeting chairman and director of the Investment Division of the Australian Trade and Investment Policy Agency, said, "It is a must to improve the business and investment environment of APEC as a whole, not only in each member economy, through sharing experience or capacity development assistance to improve economic ability of each member that is still weak to the same level with other economies. Another important thing is minimizing the adverse impacts of globalization and barriers in each country."
Representatives also discussed publishing the APEC Investment Guide Handbooks to ensure transparency and anti-corruption. As Mr. Roy Nixon said, Viet Nam has made positive reforms; thus, investment flows from foreign and trans-national companies into Viet Nam is increasing and investors are ready to accept risks in the country.
Trade facilitation aims to benefit human life
Delegates will discuss measures to protect intellectual property rights, including the implementation of standard guidelines to fight counterfeit or imitation goods and the research of two standard guidelines to raise public awareness and eliminate fakes from supplying chains.
As it concerns public health and human life, the meeting attracts much attention of delegates. According to Mrs. Sumol Pavittranon, a pharmaceutical expert of the Thailand's Ministry of Public Health, who chaired the APEC Life Science Innovation Forum (LSIF), in order to protect human life, a system of products' quality should be built.
She added that the forum will help build a better life, because medical, pharmaceutical and food products among APEC members will be of the same quality, with research conducted and technology transferred from developed to developing countries.
Technology transfer in medicine production of influenza and SARS medicine among APEC members in recent time is a clear example of their co-operation.
Boosting creativeness to develop human resources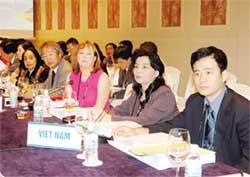 Delegates discuss human resources development

Human resources development will be an important content of SOM II, because during the previous APEC meeting, many ideas were raised, such as boosting creativeness would help improve human resources development and push economic development, according to Mr. Nigel A.F.Haworth, an expert of Auckland University (New Zealand).
In the agenda of APEC 2006, there are 18 meetings on human resources. Thailand will host a ministerial meeting on human resource development scheduled to take place in October 2006 in Bangkok. Later, the US will sponsor a public-private sectors' dialogue on human resource development, held by Viet Nam and Thailand.
Ensuring security and countering crimes
Many initiatives raised in SOM I such as radioactive safety, food safety, security of aviation, railway and traffic system, capacity improvement of preventing terrorism sponsorship will be further discussed in SOM II.
Relating human security, there is a workshop titled "Workshop of the Informal Experts' Group on Business Mobility". According to Mr. Vincent McMahon, an Australian expert in border security, this matter attracts much attention of both relevant authorities and businesspeople of APEC member economies. The workshop debated reports on electronic passports and other technologies that would save time and travel expenses for businesspeople travelling in the APEC Region.
In SOM II, there will be separate workshops of the Group in charge of Counter Terrorism and the Group in charge of Emergencies.