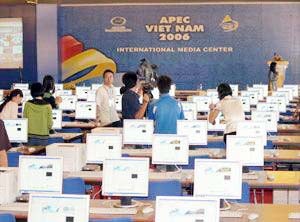 Internet-enabled desktop computers and transmission lines are always available for reporters in APEC Week.

The International Media Centre for APEC Economic Leaders' Week from November 12-19 was inaugurated yesterday in Ha Noi.

The centre houses around 300 Internet-enabled desktop computers and 800 Internet transmission lines for reporters who prefer to use their own laptops.
There is also a special room for television reporters and a 200-seat hall for the many press briefings during the APEC summit.
Speaking at the opening ceremony, Deputy Foreign Minister Le Van Bang said the APEC Summit 2006 will attract a lot of attention from the international community, which is why the broadcasting of information about the event is extremely important.
Vietnamese technicians and volunteers will be on standby at the press center to help out when needed so that the correspondents and other media people can do a proper job of reporting, he added.
According to the National Committee on APEC 2006, around 1,500 foreign and over 500 local reporters have registered to cover the week's events.