A meeting between leaders of the Southeast Asian APEC Countries and the United States of America was held on the sidelines of the 14th APEC Economic Leaders' Meeting in Ha Noi on November 18.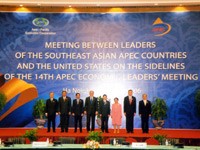 At the meeting
The meeting was attended by Indonesian President Susilo Bambang Yudhoyono, Malaysian Prime Minisiter Dato' Seri Abdullah Ahmad Badawi, Philippine President Gloria Macapagal-Arroyo, Singaporean Prime Minister Lee Hsien Loong, Thai Prime Minister Surayud Chulanont, Vietnamese President Nguyen Minh Triet and US President George W. Bush.
At the meeting, the leaders exchanged views on international and regional political, security and economic issues of common interest including APEC, WTO, energy security, non-traditional security challenges such as disaster management, infectious diseases, terrorism and transnational crime, nuclear issue in the Democratic People's Republic of Korea (DPRK).
The leaders shared the view that to effectively address those issues would require active coordination and close co-operations among countries through concrete programs and activities.
They welcomed the announcement that the U S would provide countries in the region with practical assistance, especially in information and experience sharing, regional and national capacity building in order to effectively address those challenges.
The leaders agreed that in recent years significant developments had been recorded in the relations between the countries in the region and the U S, at both bilateral and multilateral levels.
In the future, priority would be given to promoting economic and trade cooperation, creating stronger economic linkages between the two sides, and encouraging greater involvement of the private sector and businesses, so as to better adapt to the trend of increased economic integration in the Asia-Pacific region.
The President of the United States reiterated his support for the role of the Southeast Asian countries in dealing with matters pertaining to peace and development in the region, as well as in regional cooperation foray.
On this occasion, the leaders congratulated Viet Nam on its accession to the World Trade Organization (WTO).
Vietnamese President Nguyen Minh Triet expressed his appreciation to other leaders for their countries' active and effective support for Viet Nam, and pledged that Viet Nam would contribute to the efforts to resume and bring the WTO's Doha negotiation round to a successful conclusion at an early date.
The leaders appreciated Viet Nam 's efforts and initiatives during the Chairmanship of the Asia Pacific Economic Cooperation (APEC), and expressed support and confidence that Viet Nam would successfully host the 14th APEC Economic Leaders' Meeting.
The meeting took place in an open, candid and constructive manner, helping to enhance understanding, further strengthen the relations and cooperation between the United States of America and countries in the region for the sake of peace, stability and prosperity.