US President George W. Bush, on Nov. 17, affirmed that Viet Nam is an important partner of the US and expressed his wish that bilateral ties would be further developed.
President Bush met with General Secretary of the Communist Party of Viet Nam Nong Duc Manh in Hanoi on Nov. 17 during his official visit to Viet Nam where he will attend the 14th APEC Economic Leaders' Meeting.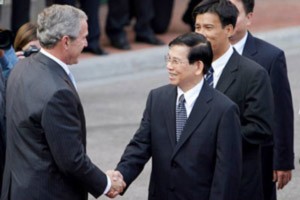 US President G.Bush shakes hands with Vietnamese President Nguyen Minh Triet
The President expressed his wish for the two sides to continue their dialogue on issues of mutual concern and said he would move to have the US Congress quickly votes on the Permanent Normal Trade Relations(PNTR) with Viet Nam bill. The US would also increase humanitarian aid for the country, he said.
The President said it was a pleasure to visit Viet Nam, a country that is changing fast during the renewal process and is developing dynamically, giving good impression on international friends.
He congratulated Viet Nam on attaining World Trade Organisation membership and described this as the world's recognition of Viet Nam's efforts and development.
He said he believed that with optimism and strong will of the Vietnamese leaders and people to develop the country, Viet Nam would definitely make great strides forward in the future.
General Secretary Manh welcomed President Bush's official visit to Viet Nam and his participation in the 14th APEC Economic Leaders Meeting in Ha Noi. He described the visit as an event of significance, opening up a new stage of development in the relations between the two countries.
The General Secretary briefed the US President of the renewal policies and important guidelines set by the 10th Party Congress to further develop the country.
The Party leader acclaimed the US's constructive contributions to the success of the APEC Economic Leaders Meeting.
The relations between the two countries have experienced ups and downs, but Viet Nam has advocated a policy of "put aside the past, looking toward the future" and the two countries have made efforts to overcome obstacles and to expand cooperation, General Secretary Manh said.
He further said that the two sides should make greater efforts to strengthen and boost friendship and cooperation on the basis of independence, sovereignty, non-interference, equality and mutual benefit, with the aim of enhancing constructive and friendly partnership, expanding comprehensive cooperation and promoting long-term stability, in keeping with the principle of mutual respect; open, straightforward and constructive dialogue; and cooperation in lifting the two countries' relations to a new chapter in the interest of the two peoples and for peace, stability, cooperation and development in the region and the world.
General Secretary Manh asked President Bush to convey his greetings of peace, friendship, cooperation and prosperous development to the US people.
(Source: VNA)