Israel's foreign minister ran into controversy on the first day of a Latin American trip Tuesday when an official of Brazil's ruling party reportedly called him a "fascist."
Israel's Haaretz newspaper reported that Valter Pomar, secretary of international relations for the Workers Party, said that Avigdor "Lieberman is a racist and a fascist" during an interview.
Haaretz reported that Pomar also said that "the Brazilian left is organizing protests" against Lieberman "and against the policy he represents."
The left-leaning Workers Party has long been sharply critical of Israel's policies toward Palestinians, and Lieberman has advocated a tough line on Israel's Arab minority.
He has suggested redrawing Israel's borders to push areas with heavy concentrations of its Arab citizens outside the country and under Palestinian jurisdiction, while requiring those who remain to sign an oath of loyalty to the Jewish state. Some 20 percent of Israel's 7 million citizens are Arabs.
Lieberman's 10-day trip is meant to battle growing Iranian influence in the region and to push trade. He is expected to meet with Brazil's President Luiz Inacio Lula da Silva — a founder of the Workers Party — on Wednesday.
Pomar was traveling and unavailable for comment, a party spokeswoman said. She declined to comment on the Haaretz report.
A spokeswoman for Silva said Pomar's words "were just his own opinion and have nothing to do with the government. In fact, they were quite rude." She spoke on condition of anonymity, citing department rules.
Iran's ambassador to Brazil, Moshen Shaterzadeh, said Monday that Iranian President Mahmoud Ahmadinejad will also visit Brazil. He didn't give a date.
Lieberman was meeting with an industry group, leaders of the local Jewish community and the governor of Sao Paulo state on Tuesday.
He also has planned stops in Argentina, Peru and Colombia, but is bypassing the South American nations most closely allied with Iran — Venezuela and Bolivia.
Venezuelan President Hugo Chavez and Bolivian President Evo Morales are strong supporters of Ahmadinejad and have solidified links with Tehran through trade deals.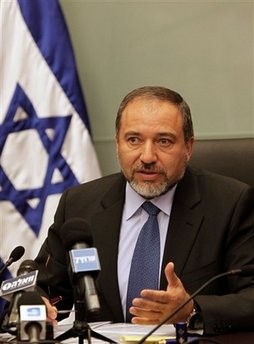 Israeli Foreign Minister Avigdor Lieberman talks during a Yisrael Beiteinu faction meeting at the Knesset, Israel's Parliament.
Both countries broke off ties with Israel in January to protest a military offensive in the Gaza Strip.
Dorit Shavit, a top Israeli diplomat for Latin America, told the Colombian newspaper El Tiempo that Hezbollah cells are operating on Venezuela's Margarita Island and along the Venezuelan-Colombian border.
"There are many mosques that serve not only as places of worship, but also to collect money that's sent to the Middle East," she was quoted as saying in an interview published Sunday.
In a statement on Tuesday, Venezuela's Foreign Ministry called those allegations "ridiculous."
President Hugo Chavez, meanwhile, complained that the allegations — combined with a recent U.S. congressional report criticizing Venezuela's anti-drug efforts, and Colombia's decision to allow the U.S. to expand its military presence in that country — constitute "aggression."
"It's an attack formation against Venezuela," Chavez said.