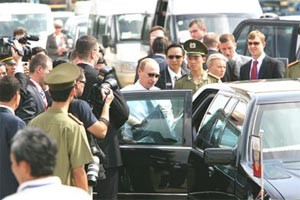 Russian President Putin arrives Ha Noi airport today (Photo: VietNamNet)
Russian President Vladimir Putin, the last of the 5 heads of State who pay an official visit to Viet Nam on the occation of APEC meeting 2006 arrived in Ha Noi today.
This evening, Russian President Putin attended the first working session of APEC Economic Leaders' Meeting 2006.
After that, he will meet with President Nguyen Minh Triet on fostering both side's cooperation in economy, energy, tourism, education and science – technology.
Russian President Putin will open the Viet Nam – Russia Joint-Stock Bank tomorrow. He will attend a press briefing on Monday afternoon and then meet with General Secretary of the Vietnamese Communist Party Nong Duc Manh, Prime Minister Nguyen Tan Dung and Chairman of the National Assembly Nguyen Phu Trong in the evening.
Among his very tight schedule, the Russian President Putin has met some leaders of APEC's members. Especially, a bilateral meeting between the U.S. and Russian leaders discussing Russia's accession to the WTO was held today.
This is the second time Russian President Putin visited Viet Nam. The official welcome ceremony for the Russian President will be held at the Presidency Palace on Monday.